As if it were a classic video game, this exhibition refers to the first computer generated graphics used in Arcades. A visual language made up of a cubic pattern (mosaics), basic lines, rational figures and a reduced color palette, product of the limited technology from those days.
In this exhibition, many artists show some of their most recent works; a selection of bitmap images, created pixel by pixel.
Developed in 2D with frontal, lateral and aerial views as well as in perspective, these artworks explore a non-isometric pixel style. Illustration technique used in the first videogames and operating systems interfaces since the 1960s, these works take us back to the genesis of digital art.
Although this is not a cyberpunk adventure game, these images and animations show us how pixel art is active in the world of digital art.
Basic lines and irregular contours in this low-resolution aesthetic motivate the mind to complete the figures by approximation of forms. A feeling of being inside a dream where everything is fragmented and incomplete.
Artists
1041uuu
Toyoi Yuuta is a Japanese artist known as 1041uuu, his artistic alias. He is mainly dedicated to illustration and has explored the possibilities of animation through the GIF format. His work combines manga, anime and 8bit aesthetics. In his latest pixel works, predominate a palette of blue tones, colors that floods the melancholic everyday scenes of life in the city. His animations capture various elements and issues of contemporary Japanese culture.
Ansdor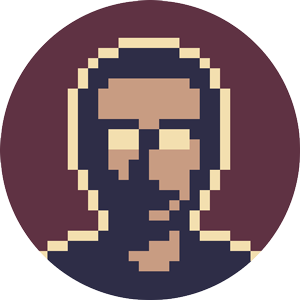 Sandro Luiz de Paula, is an artist, programmer and video game developer born in Belo Horizonte, Brazil in 1990. He is currently working on the development of 3D video games. Finds inspiration in the classic games of the Arcade era.
Godzuki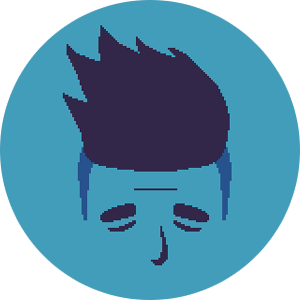 Born in the Philippines, in 1992, Francisco uses the pseudonym Godzuki to show his work. He uses his pixel works as a life chronicle where he relates situations and feelings that he lives in his travels in the United States.
Kirokaze
Gerardo Quiroz is a digital artist dedicated to pixel art born in Lima, Peru, in 1991. He experiments with GIF animations and develops visual concepts for various artistic and commercial projects. He shows his artistic production through a wide range of Internet sites and social networks under the pseudonym Kirokaze.
Pixel Mewr
Aliz Rátkai is a student and visual artist born in Szekzárd, Hungary, in 1993. She is known under the pseudonym of PixelMewr. She explores the pixel language in her works that publishes through different online media networks. Her style transits the cyberpunk aesthetic and the sub-aquatic world.
Kropki
Pawel Kusmierz is a multidisciplinary designer and artist based in Bilbao. Spread his work through the alias of Kropki. His influences came from the 8bits aesthetic, and his work is part of the current Vaporwave movement. He collaborates with several artists in his visual proposals focusing big part of his production in pixel art.
Galactic Castles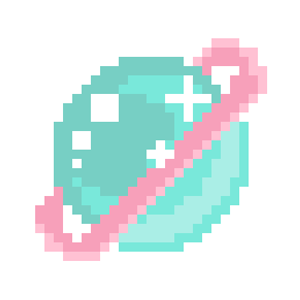 Katie Belton was born in the United States, in 1993. She uses the artistic name of Galactic Castles to show her work. Although digital language and pixel predominate in her work, she also explores other techniques, materiality and plastic languages. Her main influences are the anime imaginary of the 80s, videogames and the Vaporwave movement. She often incorporates urban landscapes, castles and the planet Saturn as an icon in her works.
Plupluru
Visual artist known under the pseudonym of Plupluru, born in Italy in 1990. She studied languages and dedicates much of her work to the exploration of pixel art. Her style is influenced by the Vaporwave scene, and the neon aesthetic of the 80s. She currently lives in London and one of her interests is to develop video games.
QuickHoney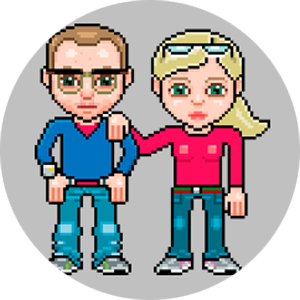 QuickHOney is the artistic collaboration between Nana Rausch (1968) and Peter Stemmler (1966). Both born in Germany, currently direct a design studio based in New York. Dedicated mainly to illustration, they produce a variety of work through multiple media and styles.
Valenberg
Born in Bavaria, Germany, in 1984. He works in illustration and digital animation, currently exploring the pixel technique. He collaborates with several artists and musicians in visual development. His style is characterized by the cyberpunk aesthetic with a colors palette limited to cyan and magenta tones. He is co-founder of the comic magazine 'Tape Mag' also dedicated to pixel art.
Waneella
Valeriya Sanchillo known under the pseudonym of Waneella, is a visual and conceptual artist born in 1994. Big part of her work explore pixel language and is developed in GIF animation. Her style is based in vertical scenes and huge machinery where a special kind of abstract imagery predominates.
Wizardries
Lauren Anne, known by the pseudonym Wizardries, was born in the United States, in 1994. She is currently studying and working on the exploration of pixel art.
Noirlac
Noirlac is an anonymous archeologist of video game culture. It appropriates the imaginary of old video games that were forgotten due to the advance of new visual styles and resignifies them through his posts on his personal website. His work is questioned in the network due to the use of pixel art images and GIFs sourced from video games.
Amplitude Problem
Juan Irming is a producer, composer, sound designer and keyboardist. He was born in the United States and began working on the European demoscene by the end of the 80s. His style explores chiptunes and synth sound with a strong influence of the video game culture. He currently lives in Los Angeles, California, and collaborates with several artists around the world.